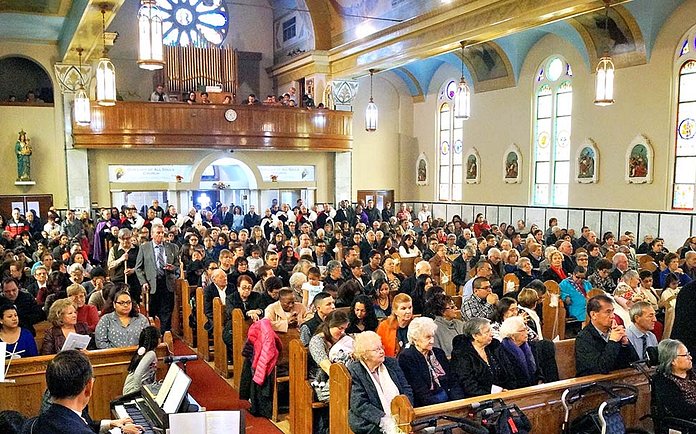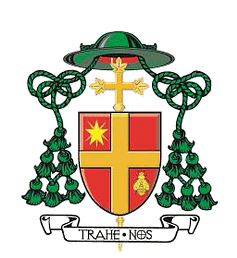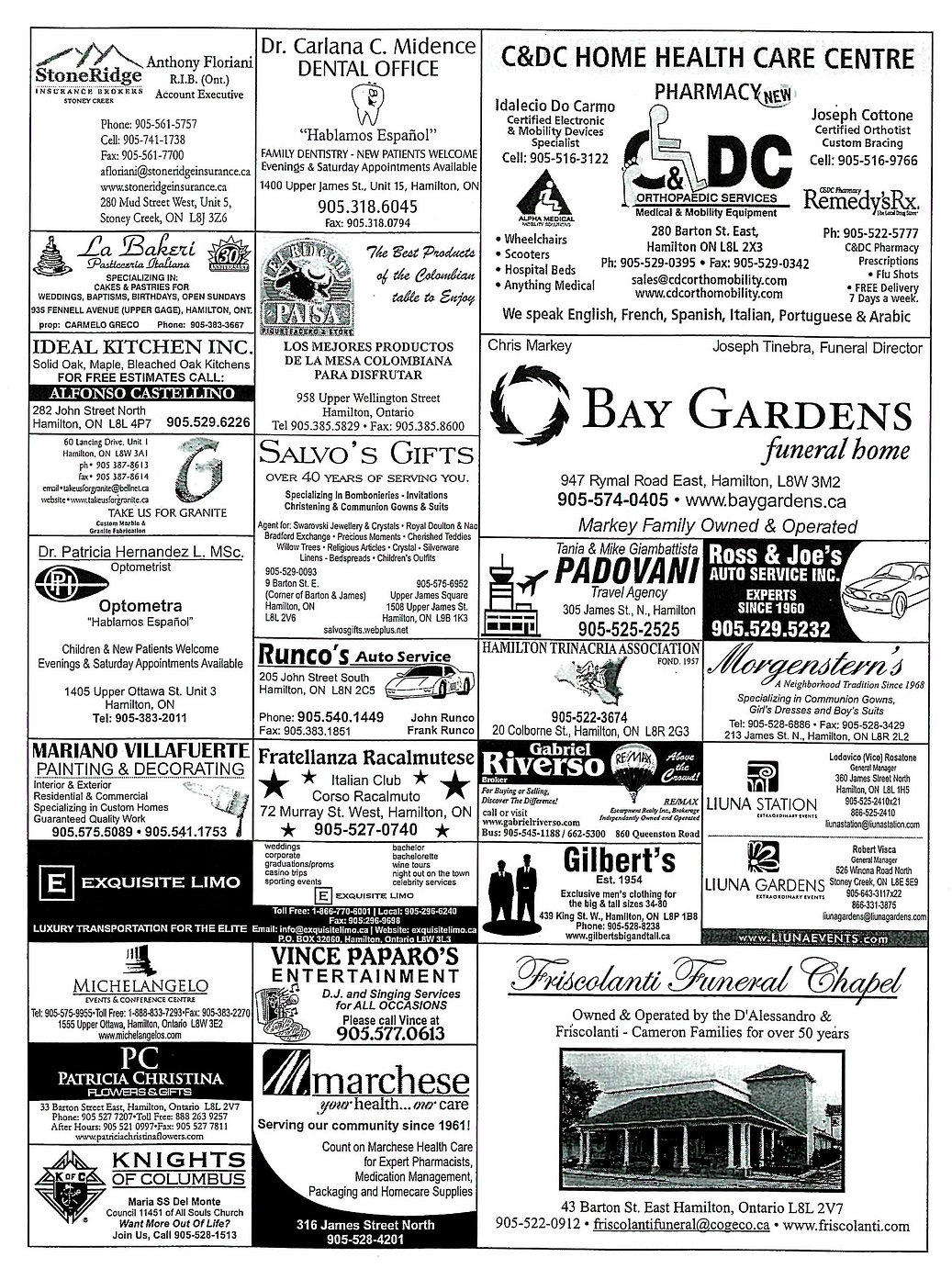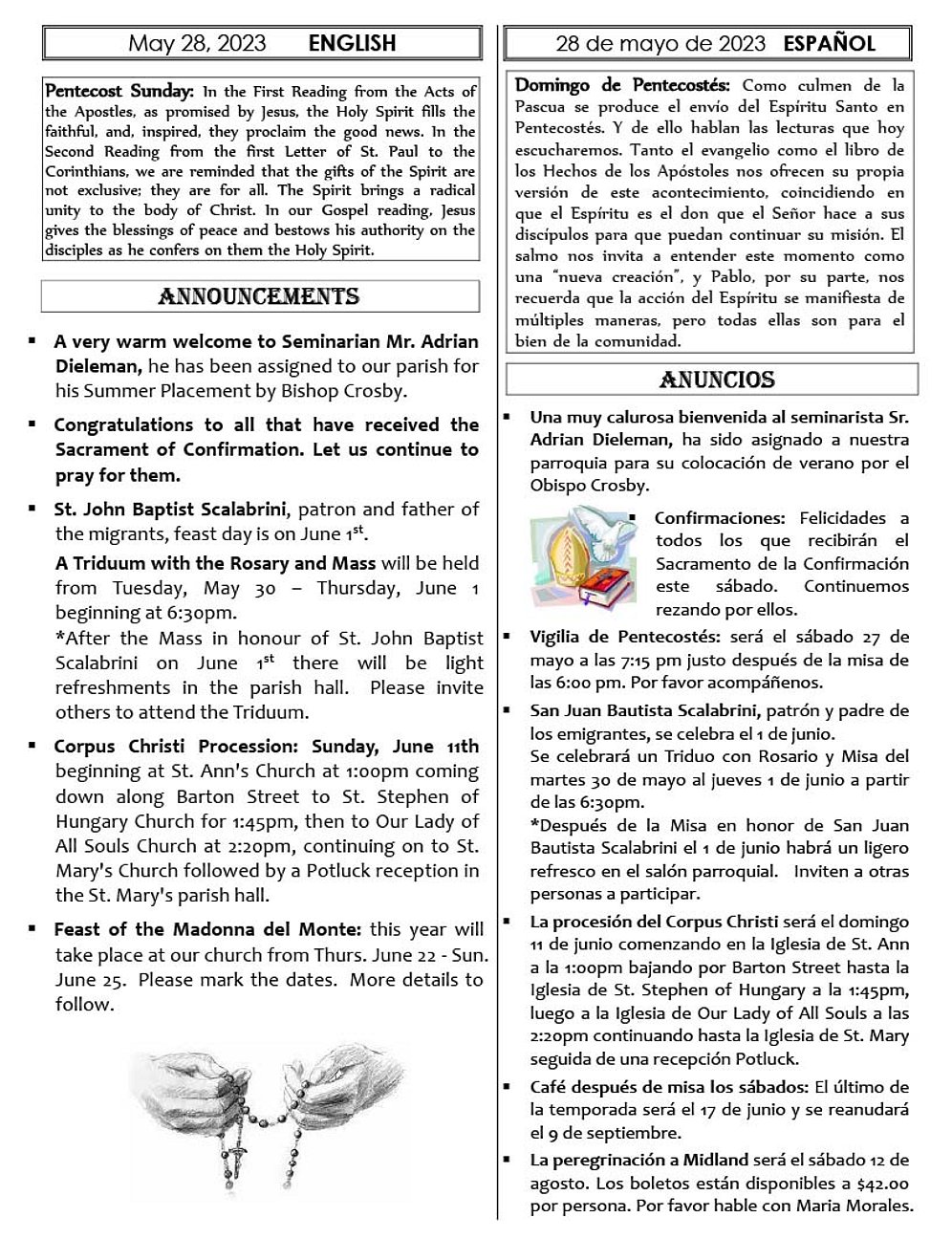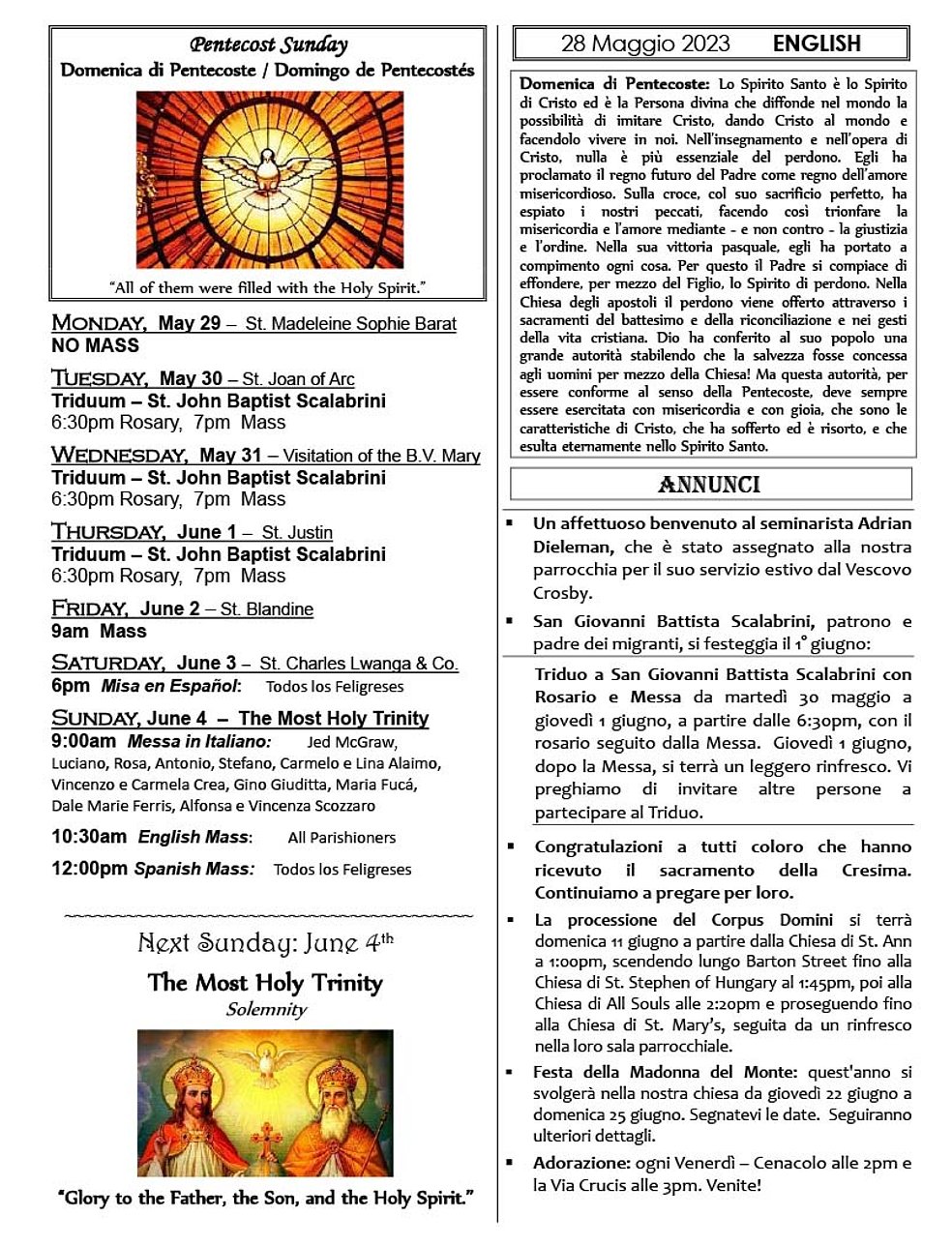 21 Barton Street West, Hamilton, OntarioL8L 1A2 CANADA
(905) 528-1513 allsoulshamilton@hamiltondiocese.com
Chiesa Nostra Signora di Tutte le Anime
Parroquia de Nuestra Señora de Todas las Almas
Our Lady of All Souls Roman Catholic Church
BOLETIN SEMANAL PARROQUIA ALL SOULS-

BOLLETTINO SETTIMANALE CHIESA ALL SOULS
ALL SOULS PARISH WEEKLY BULLETIN
GRAZIE AI NOSTRI SPONSOR - GRACIAS A NUESTROS PATROCINADORES - THANKS TO OUR SPONSORS
CONFESSIONS – CONFESSIONI - CONFESIONES
Saturdays - Sabato - Sábados:
4:30 p.m. or by appointment
4:30 p.m. o per appuntamento
4:30 p.m. o con cita previa
BAPTISM - BATTESIMO - BAUTISMOS
English: Fourth Sunday of the Month
Call the office one month before for preparation
Español: Cuarto domingo del mes
Inscribirse un mes antes para la preparación
MARRIAGE - MATRIMONIOS: Please contact us one year in advance to set your date.
Marriage preparation course is required.
Favor reservar la fecha un año antes. Pasar por la oficina para las informaciones requeridas.
PASTORAL CARE OF THE SICK: Our Ministers bring Holy Communion to the sick monthly.
• For Confession and Anointing: Call the office.
• Per Confessione e Unzione chiamare in ufficio.
• Para la Confesión y la Unción: llamar a la oficina.
ACTIVIDADES PASTORALES
• Primera Comunión: Para más información, llame a la oficina
• Estudio Bíblico: Sábados 4:30 p.m.
• Grupo de Oración "Virgen Peregrina": por ZOOM
• Legión de María: Miércoles 5:30 p.m. por ZOOM
OTROS GRUPOS:
•Ministros de la Comunión,
•Catequistas, •Visita a los Enfermos, •Parejas, •Acólitos,
•Diferentes Coros, •Liturgia (lectores, ofrenda), •Virgen de Guadalupe, •Hermandad San Oscar Romero, •Grupo Social, •Grupo de Adoración al Santísimo Sacramento, •Cenáculo de Oración.
•

Office Hours

•

Orario di Uffi

cio

•

Horas de Oficina
OPEN: Monday, Tuesday, Thursday and Friday
10:00 a.m. - 4:30 p.m.
CLOSED: Wednesday, Saturday & Sunday
Masses - Messe - Misas
SATURDAY: 6 p.m. en Español
SUNDAY:
9:00 a.m. in Italiano
10:30 a.m. in English
12:00 p.m. en Español
Weekday Mass
Monday: NO MASS
Tuesday and Thursday: 7 p.m.
Wednesday and Friday: 9 a.m.
Letter from the Bishop of Hamilton
(Most Rev.) Douglas Crosby
Let us return with Joy!
May 24, 2023
Dear Friends:
For the past three years, the world has been shaken by the Covid-19 virus, and our lives have been changed as we sought to observe the many protocols which were established for our health and safety. These included frequent periods when we were unable to come together to celebrate our faith and be nourished by the Sacraments. On several occasions our churches were closed, and we were unable to celebrate the Sunday Eucharist, which is so fundamental to our Catholic way of life.
Since we foresaw occasions when we would be prevented from participating in Sunday Mass, and we were fearful of gathering as long as Covid-19 and its variants were spreading and threatening the health of so many people, on March 16, 2020, I dispensed the faithful of our Diocese from the obligation to participate in the Sunday Eucharist.
During the pandemic, several Parishes in our Diocese provided livestreaming, so that even though parishioners could not be physically present and participate fully in the Sunday Mass, they were able to at least hear the Word of God proclaimed and witness the celebration of Mass broadcast from their Parish. I am grateful for all the ways that our Priests sought to provide spiritual support to their parishioners during those difficult years!
In recent months, we have been able to resume most of our former activities. It has been a great joy to gather again with our families and friends, and especially with our Parish communities. At the beginning of this month, the World Health Organization declared that the Covid-19 virus is an on-going health issue; however, it no longer constitutes a public health emergency of international concern. Furthermore, all Covid-related restrictions have been removed in our Province.
For this reason, I am removing the dispensation from the obligation to participate at Sunday Mass, effective on the Solemnity of the Most Holy Body and Blood of Christ (Corpus Christi), June 11, 2023.
I understand that some members of the faithful, for reasons of health, may not feel able to return to Mass. However, it has always been the teaching of the Church, that those who are impeded from participating at Sunday Mass because of ill health, or care for the sick, or some other grave reason, are not bound by the obligation to participate in the Sunday Eucharist.
Those who are now able to resume their regular activities and enjoy good health are obliged to participate at Sunday Mass. "Virtual Masses" online and on television, while spiritually helpful, do not fulfill the Sunday obligation for those who are able to attend Mass in person.
Today, on this Solemnity of Pentecost, we mark the conclusion of the Easter Season and celebrate the birthday of the Church. From the earliest days of the Church, Christians have come together on Sunday, the Lord's Day, to celebrate the Eucharist. And so, I take this opportunity to invite all the faithful of our Diocese, if they have not already done so, to return with joy to the Sunday Mass.
May our faithful celebration of the Sunday Eucharist and our reception of the Body and Blood of our Risen Lord Jesus Christ in Holy Communion never cease to nourish our faith and strengthen us to be missionary disciples.
Sincerely in Christ and Mary Immaculate,
(Most Rev.) Douglas Crosby, OMI Bishop of Hamilton